Severity is preferred. Fetishists are welcome…with extremes, a must. Step inside My realm of unethical erotic violence if you dare.
There are developmental, sexual, and social reasons why men have submissive desires toward Women. As Sigmund Freud would suggest, the figure of the Mother represents for the male child the beginning of a lifelong pursuit of the fulfillment of his need to submit to Her embodiment. Although there are widely different expressions of the need, these inevitably center around the male seeking to please and love the Female equivalent of authority. As the hand which strikes is also the one to soothe, discipline and punishment and lust and love meet where the submissive mind hungers in adoration of all that is Female.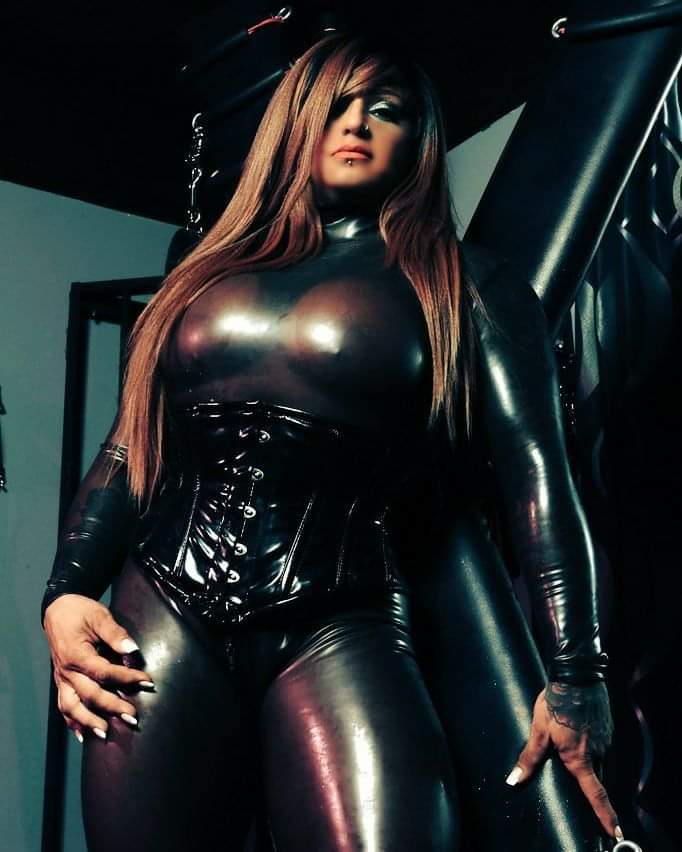 Welcome to My world of sinful pleasures, pets.
I am Dominique Danger, and I invite you to bask in the infinite brilliance of Female Supremacy, that is I. Let your eyes wander and come to rest upon My beauty. I am everything — and more — that My name suggests. But you already sensed that, didn't you?
As easily as you can sense those yearnings welling up from deep within you as you peer at Me with disbelieving eyes: Your cravings for a woman of total power who can stretch you to the brink of complete surrender.
I am that muscle muse of your innermost imaginings. The dark secret you've kept hidden away and fantasized over in secret for as long as you can remember. I'm the steely amazon bitch forged from your submissive psyche, fleshed out of your wet dreams and ready to tame you, should you dare.
Far from any generic kitten with a whip, I am a multifaceted, lifestyle domina of many interests: Bodybuilding, Powerlifting, Olympic Weight Lifting, Submission Wrestling, Martial Arts, just to name a few. And I employ them for My favorite pastime of all, keeping worthless men on their knees beneath My gaze, whimpering for mercy.
Should I wish, I can hold you captive between my 30″ thighs with the firmest, rib crushing scissor you will ever experience.
Now come hither, let this Goddess rob you of your sanity, rhyme and reason, but for a short while....My dear puppet.
CONTACT ME NOW!